La Petite Marmoset Vintage is the creation of
Katherine
. She loves herself an unique vintage find. She has this great knack for creating fun looks from the unique vintage finds (check out her
blog
to see what I'm talking about!). I mean, the girl has a pretty darn good eye. Along with co-creative director,
Ashley
, LPM has grown to be such a cool shop filled with one-of-a-kind vintage items (clothing and accessories) that you may not see anywhere else. From time to time, LPM also re-designs a vintage item and gives it their own twist...usually right on current season's trend.
Now, here's the fun part! LPM is giving one lucky HPS reader a
Vintage Indian Connected Collar Tips
! This is such a great alternative to wearing a statement necklace. Just clip the tips to the end of each collar and viola! good to go. Gives the right touch of
oomph
to any shirt, blouse or dress.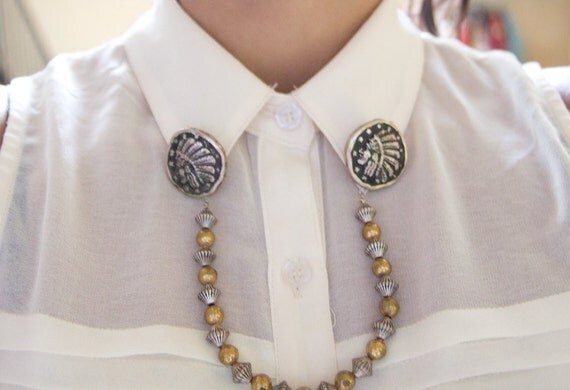 Here's how to enter: 1) Leave comment with your name and e-mail or Twitter handle. 2) Follow @LPetiteMarmoset AND @LPMAshley on Twitter. 3) Tweet about this giveaway. 4) For extra credit, 'Like' LPM on Facebook.
a Rafflecopter giveaway
That's it!
Remember to also enter a 8-Vintage $25 gift certificate
here
. The giveaway ends on Thursday. Good luck!