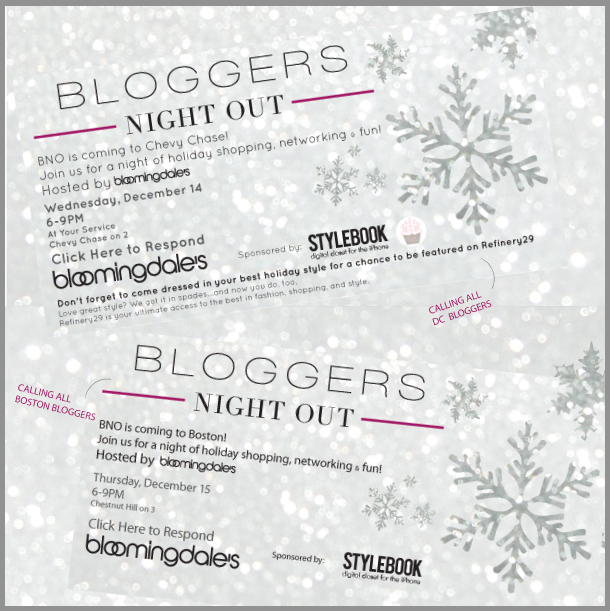 Event: Bloggers Night Out DC
Where:
Bloomingdale's
, Chevy Chase
Summary: Earlier this week I attended Bloggers Night Out DC. Bloggers Night Out is a group that "
creates and manages exclusive events for the blogging community that connects bloggers, offer networking opportunities and provide exposure to the brands (it) work with
." I first heard about BNO during NYFW in September. I wasn't able to go to their event but I heard (and saw via photos) how successful it was. At least 450+ bloggers were in attendance. Craziness! Two of the founders, Erika and Caitlin, decided to bring BNO to DC. The event took place in the personal shopper section on the 2nd floor of Bloomingdale's. We were treated to champagne and cupcakes from Cupcake Boutique. Prizes were given away courtesy of J Brand, Send the Trend and Stylebook. Speaking of Stylebook, I really like their concept. It's an Apple application that allows its users to organize their closet, create outfits, track what outfits was worn on what day with the help of a calendar, create an inspiration tab, and plenty more. All through your Apple product! Too bad it's not available for Droid users because if it was I would've definitely downloaded this app to my phone.
It was great to hang out with some familiar faces but also to meet new faces/bloggers.
Enjoy the pictures!
Co-Founders of Bloggers Night Out and the hosts
Erika and Caitlin
I am a watch person. So, naturally, I gravitated towards watches.
It'll be a great gift for a loved one.
Another gift idea is a Godiva box set. Add the cute Godiva teddy bear to make someone smile.
Co-Creator of Stylebook
Jessica
Angela
(l-r) Nesaya, Brea and Jen
Sara
Stephie
Kate and Aika
Kathy
Shahidah
(l-r) Morgan's friend, Morgan and Waverly
Carlis and Genevia
One of the highlights of the night was finally meeting Nic.
Carlis and Katya
Ally and Emily
Ashley
Nic and Cortnie
Both are carrying Cortnie's creation: Love, Cortnie Clutch
Ashleigh
photo c/o Lauren
Franky J
I hope everyone is enjoying their weekend! Make it a safe one.